but a darn fine way to end the day.
I can't recall if I actually do, or whether I just think I do, so I often avoid starting blogs with "So the plan was…" but this time, at least, I'm going to let it fly because it's even more appropriate than usual.
The plan this morning was to set off at 7am with Clive to [[Panama City]]. I'd get my laptop screen fixed, he'd do his shopping for boaty things and we'd probably both be back in time  for the pot luck at Captain Jack's pub/hostel/hub of travellers.
Things rarely "go smoothly" and today wasn't by any means a disaster. After pulling several blanks on laptop screens and outboard motors I left my dear Bubbles (that's the laptop, because she floats around me causing trouble) in the friendly and capable hands of MiniComputers. I had just popped into a different store who tried to fit a semi faulty screen – which would have saved me  40 USD at the expense of a slightly dodgy back light – who failed at that, and (as you'll read later) damaged my VGA card. Unfortunately I didn't insist they got her back to the state I'd arrived with her in (since I was only going to try and get the screen changed elsewhere), so didn't realise they'd broken something until it was too late.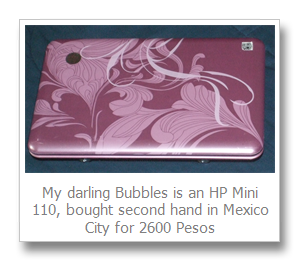 Time for the Boat Stuff
Off we set to our first chandler, which turned out to be a guy, a desk and a phone to the warehouse. Not quite for what we had hoped. After much persuasion from Clive, the gave us (another) 5% discount and agreed to ship the items from the warehouse in [[Colón]] to Panama City so that we could collect them by 5pm.
Satisfied we hit up Electronica Japan for some awesome cool LED light strips and other toys for me to fit on to the boat.
After lunch in Loving Hut and while popping into Mamallena's, the hostel I stayed in recently, we called the supplier to try and get him to deliver to the hostel. Naturally he declined with a dismissive "I'll try". Clive spoke to Will (our reason for visiting the hostel) and we got on our way to pickup the goods and get home (after collecting my laptop of course).
Clive made another cringe-worthy attempt to knock another 10% off our bill before finally relenting. Sometime during this I called up MiniComputers who informed me they couldn't replace the screen. It was now 6:15pm and too late to try another store, so my options were:
Not fix Bubbles yet, I still have 4" of working screen.
Go home, return tomorrow at a cost of only $4 USD but 6 hours of travel.
Find a hostel with space in an affordable bed, fix Bubbles in the morning and hope to return in time to visit the monkeys with Alex and Claire (my new crew mates).
I chose option 3, called up the Balboa Bay Hostel and booked myself a bed. Some Internet time later and a chat with another guy staying in the hostel I was ready for dinner – and had a very good sounding computer guy as a backup in case my last resort in the morning didn't work out.
The Expensive Dinner
I had heard about an excellent grocery store on Calle Argentina, so flagged down a taxi to take me there. During some nattering chitter chatter the driver recommended a few vegetarian restaurants, he took me to one which was on the way but it had closed, though he said there happened to be another one next to the store I was heading to so that was pretty much win win.
That turned out to be Greenhouse, a restaurant who try to be environmentally friendly. They do really good food I had a saladey thing of some kind with a real fruit juice, followed by some whole wheat pita with home made humous to pass the time so I could spend more time in the restaurant.
The End of the Sorry Tale
The next morning I headed to the final computer shop on my list, they wanted $20 just to look at her. If someone has that little confidence in their own skills, I'm happy to agree with their opinion. I called up my last resort backup guy I'd spoken to the night before – a friend of someone else in the hostel – who sounded like my kinda guy. I left Bubbles with him and finally got out of Panama at 3pm, back at Portobelo by 6 where I spent an hour having a shower and making some pasta before trundling around the village to find my crew mates and a cold beer.
Next Week
Breaking blog chronology here, a week later after a trip to the San Blas Islands I met up with my guy again. He was unable to fix Bubbles, he could have got the new screen in but the video card on the motherboard had been damaged and would cost several hundred dollars to replace the motherboard.
I didn't take any pictures in Greenhouse, so those above are taken from: http://panama-realestate.biz/greenhouse-lounge-and-cafe/